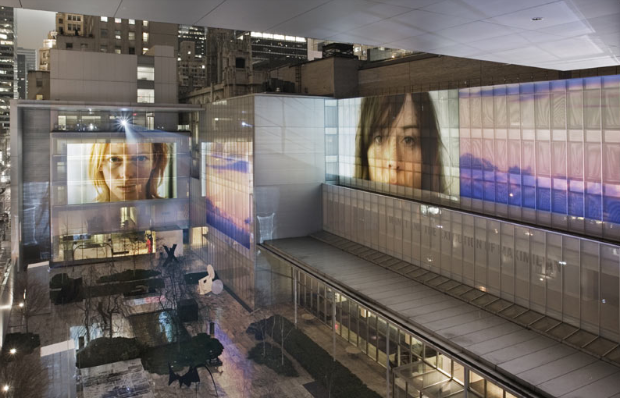 The cover of this issue of Artkrush is a detail of a still photograph of sleepwalkers, a public artwork by video artist Doug Aitken. Presented by New York's Museum of Modern Art and Creative Time, the installation consists of eight projections on six surfaces of MoMA at night. The video investigates the ambulant lives of five lonely strangers, steeped in the mire of urban life.
The projections follow a steel executive (Donald Sutherland), a bike messenger (Ryan Donowho), a postal worker (Chan Marshall of Cat Power), an electrician (Seu Jorge), and an office worker (Tilda Swinton) as they wake in the evening and begin their nocturnal vocations. They move simultaneously through their routines, emanating malaise, but exquisitely framed by Aitken's surreal cinematography. As an organic entity capable of shaping lives, the city itself becomes the sixth character.
This "videotecture" spectacle at MoMA stems from Aitken's previous projects, particularly his ongoing thematic emphasis on urban loneliness. In 1999, Aitken stormed the Venice Biennale with electric earth, a film tracing a bemused young man's dance through an eerily empty cityscape. After winning the International Prize for the work, Aitken then reached a new apogee with new skin, the tale of a young woman in Tokyo, isolated from the outside world by impending blindness. Traces of this preoccupation with solitude permeate sleepwalkers despite its incorporation of bustling Manhattan. One scene takes place in an abandoned 19th-century vault near the Atlantic Avenue Tunnel, and Aitken chose Midtown Manhattan — usually lifeless at night — as his venue.